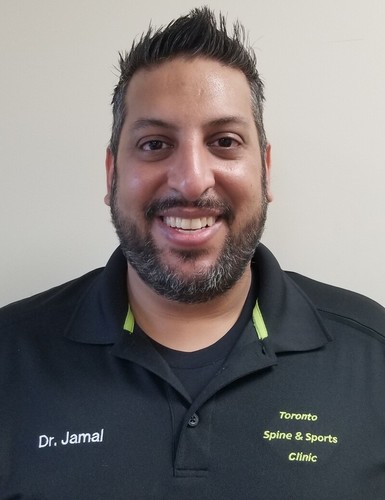 Born and raised in Toronto, Ontario, Canada, Dr. Jamal has been interested in the human body since a knee injury in 1997 ended his dream for Professional Sports. Since, he has volunteered as a Kinesiologist Assistant to gather insight into the world of Physical Therapy. He received a Combined Honours Bachelor of Arts Degree at York University, in Toronto, Ontario, in both Philosophy and Kinesiology and Health Sciences. He then attended D'Youville College in Buffalo, NY, where he graduated with his Doctorate of Chiropractic.
Dr. Jamal's passion for his profession is displayed with every patient he treats. His general philosophy is to tailor every treatment to the specific needs of the patient.
Dr. Jamal is the Clinic Director of the Toronto Spine & Sports Clinic where they are Continuing to Revolutionize the Treatment of Severe and chronic Neck and Back Pain.
If you are suffering from severe and chronic neck and/or back pain and have tried various types of treatments with little or no results, then our breakthrough treatment may be the answer you've been longing for.
Our clinic strictly specializes in difficult cases of Disc Herniations, Spinal Arthritis, Degenerative Disc Disease and some cases of Failed Back Surgery Syndrome.
By offering our patients with the most advanced and sophisticated Non-Surgical treatment technology available on the market today, we are able to provide you with the highest probability of recovery.
If you are suffering with chronic constant pain, we encourage you to explore our site and find out all that the Toronto Spine & Sports Clinic can do for you to get you back to being pain free and active again!
If you would like to book a consultation with Dr. Jamal to find out if you are a candidate for care or if you have any questions, please call toll-free at 1-855-for-TSSC (1-855-367-8772).
Specialties:Spinal Decompression Provider, Graston Soft Tissue Technique provider, Acupuncture provider (Contemporary Medical), Diversified Technique, Graston provider, Kinesiology Tape provider (SpiderTech), Activator provider (Basic). Also familiar with Cox (Flexion and Distraction), Gonstead and Thompson (Drop) Techniques, Certified Strength and Conditioning Specialist (CSCS)